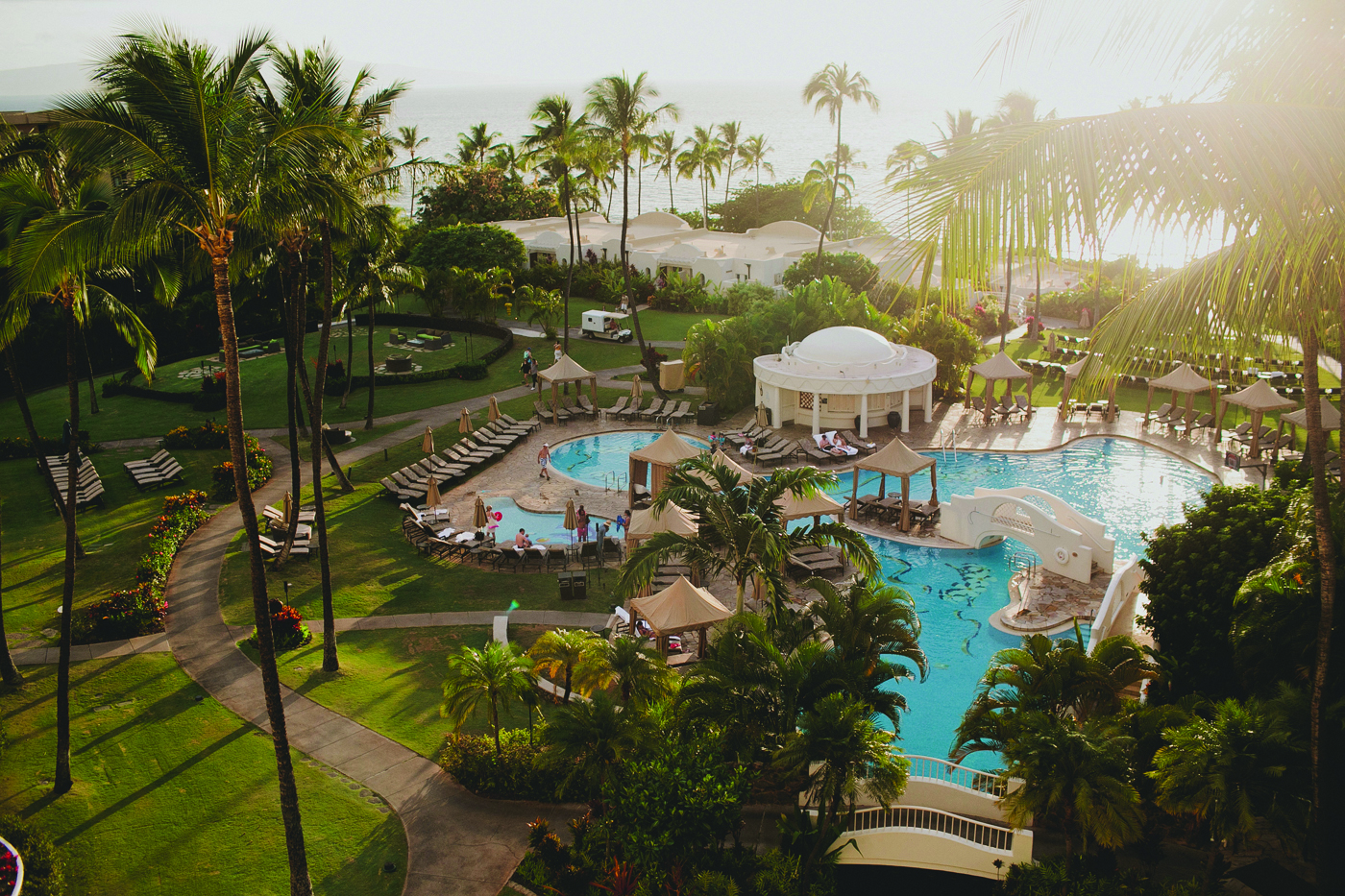 Fairmont Kea Lani
If a tropical getaway to Maui is in your future, look no further than the Fairmont Kea Lani for your Hawaiian home away from home. Of course, there's no shortage of beautiful beachfront properties to pick from on the island, but the Fairmont Kea Lani stands out from the pack as Hawaii's only all-suite and villa resort.
Brandon Barré Photography
Situated in lush Wailea, the extensive property offers picturesque oceanfront views from every vantage point, sparkling swimming pools, tantalizing restaurants (including the award-winning Ko, which was named Restaurant of the Year at the Aipono Awards), cultural activities around the clock, and most remarkably, very spacious perfectly appointed accommodations that simply do not disappoint. 
Brandon Barré Photography
Boasting 413 one-bedroom suites and 37 luxurious two and three-bedroom villas — all of which were recently renovated — this upscale property offers a tropical escape complete with contemporary interior decor that includes a soft color palette that echoes the native plants of the shoreline; plus earthy textures, artwork, and furnishings that are both elevated and inviting. All in all, the ambiance elegantly nods to the history of the island while embracing modern, upscale touches to boot. 
Brandon Barré Photography
Brandon Barré Photography
Whether you're traveling with family or a group of friends, the 2,200 square-foot three bedroom villa is a surefire crowd pleaser for even the most discerning traveler. There's plenty of room for everyone under one roof, plus dreamy extras including a private lanai, a plunge pool, bbq grill, washer and dryer, and full kitchen complete with granite countertops and stainless steel appliances. Make yourself at home with home cooked meals or snacks while lounging at the resort, or fire up those reservations and book a table at famed restaurants on the island including Lineage, Sale e Pepe, and Pacific'o for some of the most tantalizing, not-to-be-missed meals imaginable. 
Rachel Olsson Photography
If you're looking for personalized touches to make your getaway more memorable, you can also book an in-villa dining experience with a private chef or coordinate a soothing sound bath to reset your intentions and inspire good vacation vibes whilst in paradise. 
Fairmont Kea Lani
Fairmont Kea Lani
There's also fitness classes (including sunset yoga, wellness walks, and water aerobics to name a few), plus a water slide, swim-up bar, and an adults-only tranquility pool, too. The villas are mere steps away from the Polo Beach, where you can begin your day with a traditional canoe ride to catch the sunset; or ease into island life with an off-property excursion (highly recommend the snorkel tours or sunset sails from Trilogy Maui). 
 And finally, a nightly torch lighting ceremony sets the mood each and every evening as you fully embrace the idyllic serenity that is the Fairmont Kea Lani.
Steven Errico Photography
Jennifer Chan
Brandon Barré Photography
Jennifer Chan